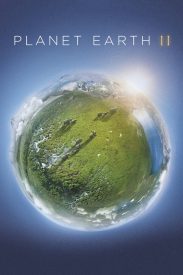 "Planet Earth II will be one of the most awe-inspiring journeys into the natural world to date. Breathtaking cinematography and a stunning cast of wildlife will literally be followed by the camera to far flung locations across the globe." – Michael J. Sanderson

IMDb | Official Website  (BBC) (Media Center) (Jungles Episode) (Episodes)

---
Year of Production
2014-2016
Credits
Michael J. Sanderson – Cinematographer
Michael J. Sanderson – Drone cinematographer
Michael J. Sanderson – Himself
Episode
Planet Earth II: Jungles (Episode 3)
Planet Earth II: Diaries ("Making of" where Michael Sanderson features as himself)
Broadcast Dates: 
EO NPO, 15 January 2017, 20:20 (Netherlands)
ZDF, 22 January 2017, 19:30 (Germany)
BBC1, 20 November 2016 (UK)
Film Festival Nominations & Awards for the Episode Jungles of Planet Earth II

Best Audioscape (winner): Jackson Hole Wildlife Film Festival 2017 (USA)
Sound: Factual – Bafta TV Craft Awards 2017 – British Academy of Film and Television Arts (UK)
Photography: Factual – Bafta TV Craft Awards 2017 – British Academy of Film and Television Arts (UK)
Audience Award (winner) – International Wildlife Film Festival – Green Screen Naturfilmfestival 2017 (Germany)
Cinematography (Camera team): RTS West of England Awards 2017 – Royal Television Society (UK)
Official selection: International Wildlife Film Festival – IWFF 2017 (USA)
Curiosities:
Michael Sanderson was the cinematographer of the scene " Spider Monkeys saves trapped baby" that was considered one of the most exciting moments of the episode Jungles and he also feature for the Diaries of the same episode. Michael has been filming in Guatemala since 2003 where is being developing his survival skills in the jungles and climbing to the canopy of the trees.
Michael Sanderson built the drone that he used to film the aerials in Brazil. Actually, he has been building drones since 2008, long before this technology started to be used to film wildlife.
Shooting in 4K?  Michael Sanderson started to film wildlife in 4K in 2008. Long before, Planet Earth II was produced.
---
---
Unofficial 'Behind the Scenes' featuring Michael Sanderson

---
---
Synopsis
Jungles are the richest places on earth. A magical world of surprise, drama and unforgettable wild characters. From the Jungles of Brazil, home to caiman hunting jaguars and strange jungle dolphins that swim in the tree tops, to Costa Rica where ninja frogs fight huge wasps, we watch as the animals face life in the most competitive place on earth. We follow alongside the beautiful indri as she bounces through the forest in Madagascar and stay out late at night to witness glow-in-the-dark creatures never before filmed! There are even mini 'dragon lizards' with a special trick to deal with life in the jungle! (credits: BBC)
---
Visual Soundscapes – Jungles | Planet Earth II | BBC America
10 Hours Of Relaxing Jungle Sounds | Planet Earth II | Earth Unplugged
---
Produced by
BBC Studios Production, BBC America, ZDF, Tencent and France Télèvisions
---