We have been using 'remote controlled multirotor helicopter' since 2008.
Our aerial technology can be adapted for each environment and each work.
We fly over the sea, through the forests, following birds... There are no limitations or hard places.
Giving new perspectives is one of our goals.
A Spider Moneky for Sale, Ateles Films – The Netherlands
A Wild Fox Life, Ateles Films – The Netherlands

The Age of Big Cats (Die Zeit der großen Katzen – Herrschaft), Ateles Films for Ammonite Films – The Netherlands
From Orphans to Freedom, Ateles Films (in Post-Production) – Guatemala
Return of the Spider Monkeys, Ateles Films, National Geographic Wild – Guatemala
All the Wild Horses – Documentary – Mongolia
Pyrenees Mountain, Ateles Films for NHK Japan – Spain
Planet Earth II, BBC Natural History Unit – Brazil & Guatemala
The Paternal Bond: Barbary Macaques,  Ateles Films for NHK Japan – Morocco
Holland – Natuur in de Delta, EMSFilms – The Netherlands
Natural World: Jungle Animal Hospital, BBC  – Guatemala
Barbary Macaques: Child caring is the man's job, Ateles Films for NHK Japan – Morocco
Natuurbeelden, Beeld & Geluid – The Netherlands & Dutch Caribe
Living on the Edge – VARA & Vogelbescherming NL, Wildlife Documentary – Burkina Faso, Morocco
De Nieuwe Wildernis, Cinema Filmand 3 part TV Series (VARA) – The Netherlands
Oost Groningen Commercial – National Geographic – The Netherlands
BMW – Fullrunner Hybrid Event Dontblogaboutthis.com – Germany
L4 – Tranquillity (Music Video)
 Airborne Composites – Exhibition Reel
Chernobyl's Radioactive Wolves – BBC, ORF NDR, PBS – Belarus
Ateles Films Coptercam in the media
in "Feature & Planning: Michael J. Sanderson: The Pioneer Drone Cinematographer", Photoworld, page 42 to 47 (February 2018) - China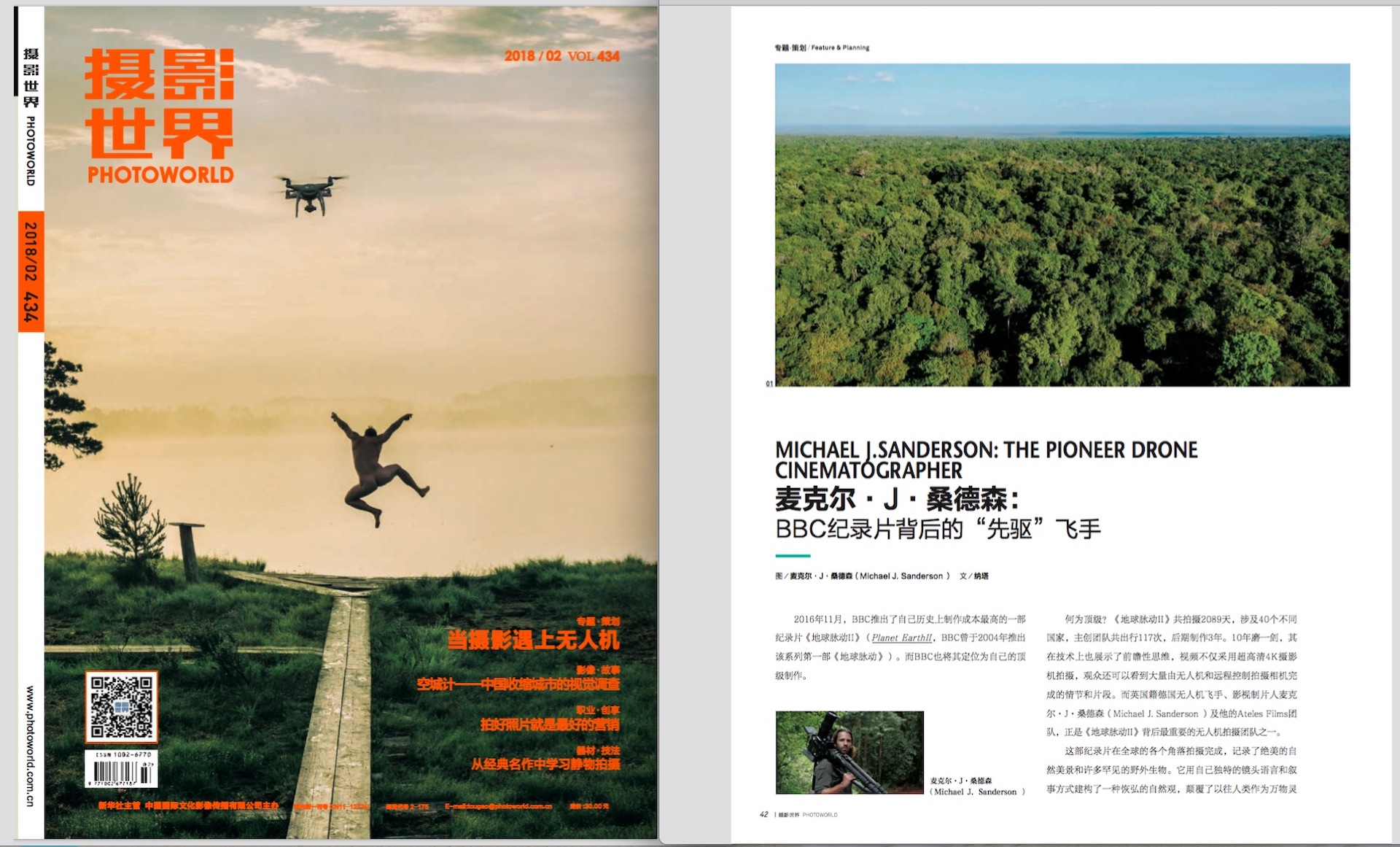 excerpt about Jungles (Planet Earth II):
"The crew even got rare footage of Araguaia river dolphins, who live in the flooded jungles of Brazil. The species was only discovered in 2014, and virtually nothing is known about them. But Napper and her crew — aided by a drone — were able to capture 15 minutes of footage the dolphins in murky water."