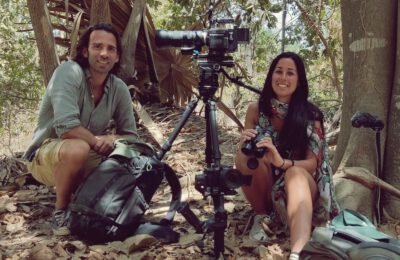 Ateles Films focuses on wildlife, natural history and environmental topics for international markets. Michael and Ana Luísa, both with an engineering background, specialise in animal behaviour, long lens, macro, aerials, high speed and all phases of production from development to final delivery and distribution of the film.
With experience in over 50 countries, Ateles Films delivers captivating stories, with beautiful imagery from intriguing angles of many different wildlife species. They do not make any distinctions in the animal kingdom as they believe that every species' story counts and should be told.
Ateles Films' productions have ranged from being about endangered bearded vultures high in the mountains, to the more common red fox in the wetlands to spider monkeys brachiating through the jungle canopy.
The working languages of Ateles Films include English, Dutch, Portuguese, Spanish and French.
What is the origin of the Ateles Films' logo?
The name Ateles Films is inspired by the spider monkey of the genus Ateles which can be found in tropical forests from southern Mexico to Brazil in Central and South America. This genus contain seven known species, all of which are under threat. They have disproportionately long limbs and prehensile tails that make them one of the largest New World monkeys. One of the curiosities of this monkey is the fact they are missing a thumb.