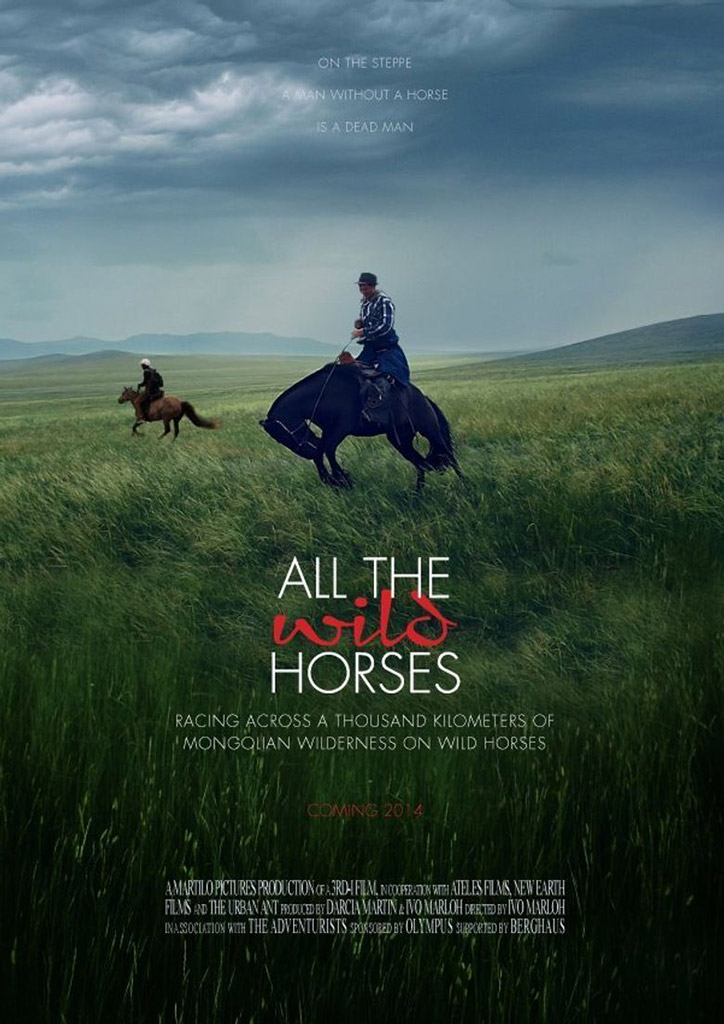 All The Wild Horses - Music by Tengger Cavalry
ALL THE WILD HORSES theatrical promo 2018
IMDb | Official Website | Facebook | Amazon
The Mongol Derby is the longest and toughest horse race in the world. In a recreation of Chinggis Khaan's legendary postal system, directed by Ivo Marloh, this 1000km (700 miles) race is strung along a network of 25 horse stations in the Mongolian wilderness, and has in its short life become an epic equine adventure without equal.
---
Credit
Michael J. Sanderson – Director of Photography/Associate Producer/Drone Cinematographer
Years of Production
2013-2017
Production Company
3rd-i Films; in association with Martilo Pictures, The Urban Ant, Twickenham Studios
Release Date
15 July 2017 (Ireland)
30 November 2017 (UK)
19 December 2019 (NL) (TV – Ziggo Sport)
Film Festival Nominations & Awards
Best Cinematography – Feature Film (winner) – Woods Hole Film Festival 2018 (USA)
World Cinema Audience Award (winner) – Phoenix Film Festival 2018 (USA)


Best Documentary (nominated) – Tryon International Film Festival 2018

(USA)
Equestrian Documentary – Full Length (winner), Equestrian Documentary – International Documentary Action (winner), Best of Festival Documentary (winner) – Equus Film Festival 2017 (USA)

Audience Award –

Best International Feature Documentary (winner) – Galway Film Fleadh 2017 (Ireland)
Best Feature Film – Jury Choice (nominated) – Hamilton Film Festival 2017 (Canada)
Award of Excellence – Documentary Feature (winner) – IndieFest Film Awards 2017 (USA)
Best Film (nominated) – International Documentary Festival of Lerapetra 2017 (Greece)
Gold Award – Best Film (winner) – Spotlight Documentary Film Awards 2017 (USA)
---
---
Synopsis

Mongolian horses once carried the all-conquering Mongol warriors across half the world. Diminutive, wild and very tough, they are highly revered in Mongolian culture, and have not changed over the centuries, free as they are from human interference. Thus the competitors are judged as people by their ability to handle these semi-wild horses. If successful, they are quickly accepted into the hearts of the nomad herders, who rarely — if ever — see a westerner, let alone someone who attempts to ride their horses.
The 35 international participants mostly chose to do this in order to experience something amazing, something they feel is impossible to experience anywhere else in the world, and something that may well not be doable any more in a couple of decades. Mongolia's horse population still outnumbers humans 10 to 1 and it is the only country in the world where the horse is still the number 1 mode of transport.
The riders are on their own, without backup, armed only with a sleeping bag and a GPS to find their way through the harsh wilderness. The horses are changed at the horse station, where they are checked over before the rider is allowed to pick a new horse. This is where all their horse knowledge — or lack of — comes into play as they have only a few minutes to connect with their personalities and hopefully pick one that won't throw them off too quickly. How the riders then navigate between the stations that occur every 30 miles is up to them.
Over the course of these 9 days, life-long friendships were formed, life-threatening injuries suffered and often life-changing decisions made. For the riders that managed to finish the 700-mile course, and almost half of them that didn't, this experience will leave them with memories they will never forget.
Ivo Marloh, who rode horses throughout his childhood, took part in the race in order to experience it first hand and get the footage that one wouldn't get by following the race in a vehicle. He suffered his fair share of close shaves but managed to make it through the race with only a pulled muscle and a bout of Mongol belly.
This production was commissioned by 3rdEye Productions, sponsored by Olympus and filmed on new Olympus OM-D and Red One. A few of the competitors also agreed to film their journeys on smaller HD cameras and all this material forms All The Wild Horses, an epic tale of adventure, companionship, danger, and the vast open spaces of the Mongolian wilderness.